Exploring voice analytics in new product development research with Johnson & Johnson
Have you ever conducted early-stage innovation research and found yourself in a situation where you don't entirely trust what consumer feedback is telling you? Many of us have had to deal with overstated interest and the need to dig deeper into unmet needs.
Uncovering both rational and emotional needs is vital for new product development (NPD) strategies – to accurately size the unmet need or opportunity for innovations. However, what is the best insights approach?
While traditional qual techniques can be used to uncover emotions, the results can't easily be scaled. Alternatively, quant research can deliver stated emotions, but lack depth. With quant techniques, we rely too heavily on 'what' people tell us and we often see an overstated interest in innovations.
To tackle this challenge, we recently explored a new hybrid Qual-Quant-AI approach for early-stage NPD research. By using a voice analytics tool, we can analyze 'how' people communicate their needs, attitudes and interest, to better uncover implicit emotions for more effective innovation strategies.
We teamed up with the Johnson & Johnson SelfCare division to put this new research technique to the test. We set out to mine emotions and explore consumer attitudes on health, wellbeing and stress.
Here I'm sharing a recap of the experiment and how mining emotions could help you uncover deeper consumer insights to better guide new product development strategies.
The research challenge: gaining actionable information from implicit responses
In today's busy world, stress seems to be becoming endemic. In an exploratory survey for this project, more than half of the participants emphasized the need to take care of their mental health. This is more than would have been expected just two years ago.
Johnson & Johnson's Consumer Science Manager in Global R&D Operations, Consumer SelfCare, is Sofia Jorman. Her remit includes identifying consumer needs and developing new products to improve their lives.
According to Jorman, Johnson & Johnson, "We are constantly investigating ways of gathering deep human understanding using both explicit and implicit tools."
Jorman was excited about opportunities to innovate in market research, which made this innovative brand the ideal partner for a close collaboration.
Our project had three objectives:
1) To explore consumer attitudes around stress and anxiety
2) To investigate whether consumer need for stress management presents a market for new innovations and, if so, which features such a product should have
3) To tackle the current challenges of identifying and quantifying emotions in early-stage innovation research.
Emotional drivers are particularly difficult to uncover when you're dealing with new product concepts. Emotions can be subtle and difficult to express. And when it comes to new products or concepts you could be looking to identify a whole gamut of reactions, from curiosity through to skepticism.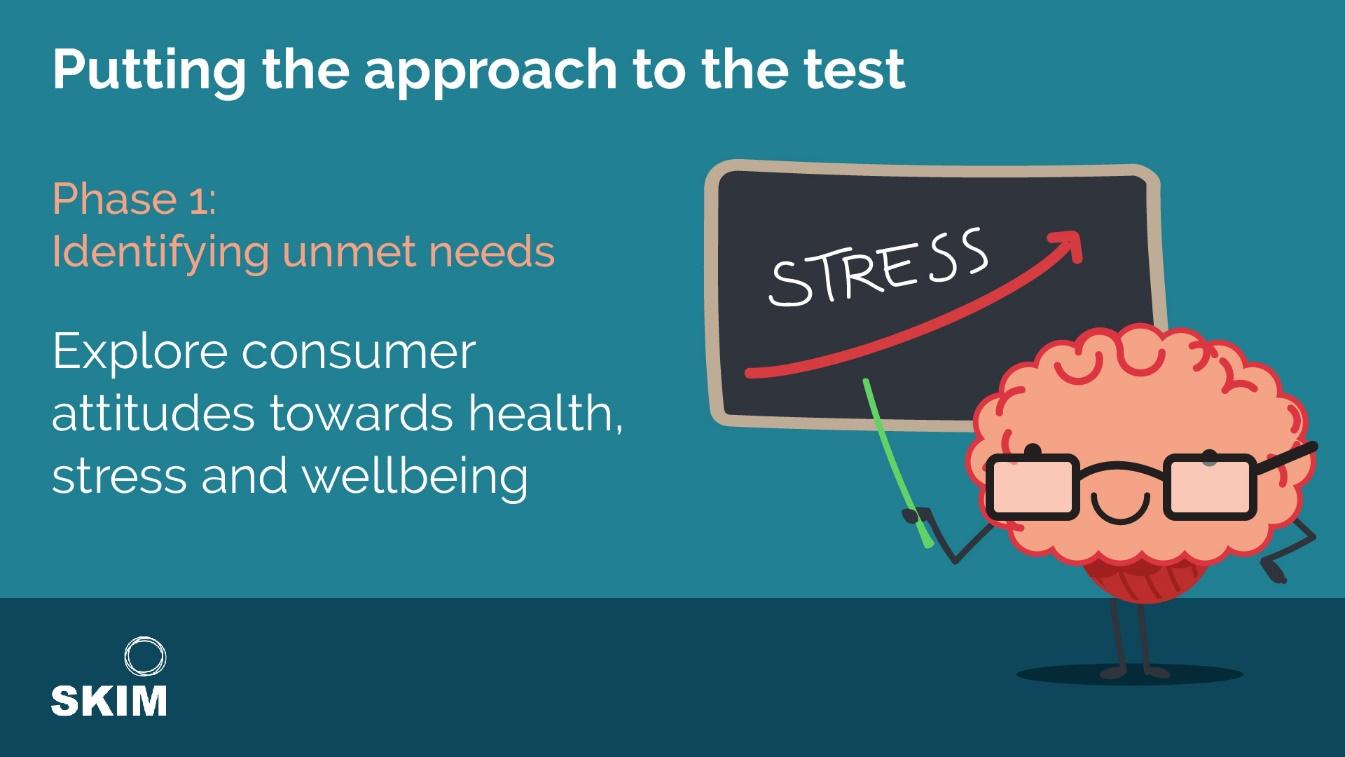 In addition, traditional research can be limited in its exploration of emotions. Qualitative methods can dig deeper into consumer responses, but sample sizes are smaller. More robust sample sizes occur in quantitative studies, but these are often focused on 'stated emotions' only.
At SKIM, our guiding approach is to find the best research solution or combination of methodologies to answer our clients' business challenges.
Here, it was clear that a hybrid Qual-Quant-AI approach would bring together the strengths of traditional methods, while bridging some of the gaps we've seen in new product development research.
To achieve this, we combined qualitative and quantitative techniques with an AI-powered voice analytics tool.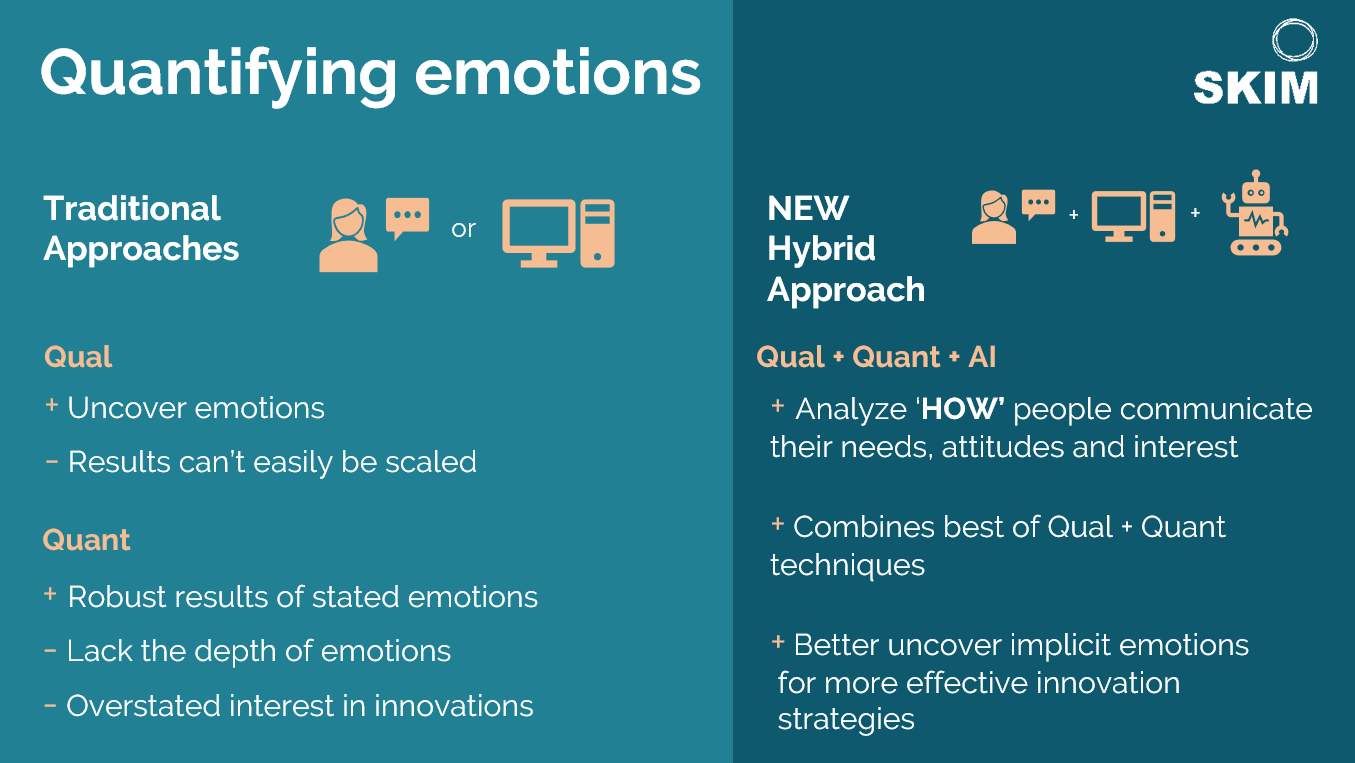 Using AI to unlock consumer emotions
The voice analytics AI tool we selected, audEERING, can detect emotions from voice. Because the emotions revealed by a person's voice are based on subconscious feelings, voice AI gives us a window into genuine, unbiased reactions, even if the stated response is different.
Overstatement of interest is a prime example of a potential use; this phenomenon is a known flaw in some trials since participants can feel a need to please the moderator. The audEERING tool can detect 50 implicit emotions in a person's speech – among them, interest. Our hypothesis was that Voice AI would help get to respondents' true feelings, as opposed to claims they might make.
Putting AI to the test: Exploring unmet needs and product concepts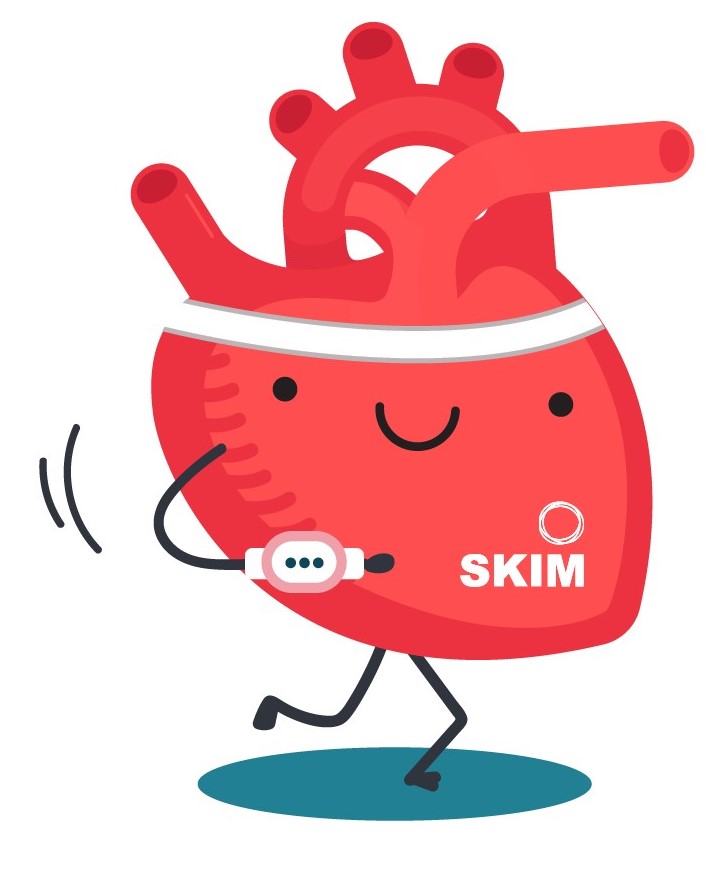 Our team of quantitative and qualitative experts created a two-stage experiment for this Johnson & Johnson study.
With those insights in mind we set out on phase two, which focused on product concepts and design. SKIM designed a hypothetical product, 'Smart Health Band', based on feedback to the initial study, and presented it to consumers. Phase one consisted of an exploratory study of the general UK population. It explored participants' experience of stress, interest in a stress management technology product and what product features would be desirable.
In this phase we 1) analyzed the content of responses to look at what people said and 2) using the voice AI tool, we analyzed how they said it and which emotions were present.
80% of those questioned in the project's exploratory study reported medium to high stress on a daily basis. When it came to the development of a potential product, a high proportion were open to the use of a technological solution to help manage their stress levels.
Innovation insights: uncovering true emotions and stress via voice
We then examined the content analysis – the what was said – which showed high interest in the 'Smart Health Band' concept. However, the voice AI delivered additional, unexpected results: while still high, the implicit or subconscious interest was not as high as the content analysis had suggested.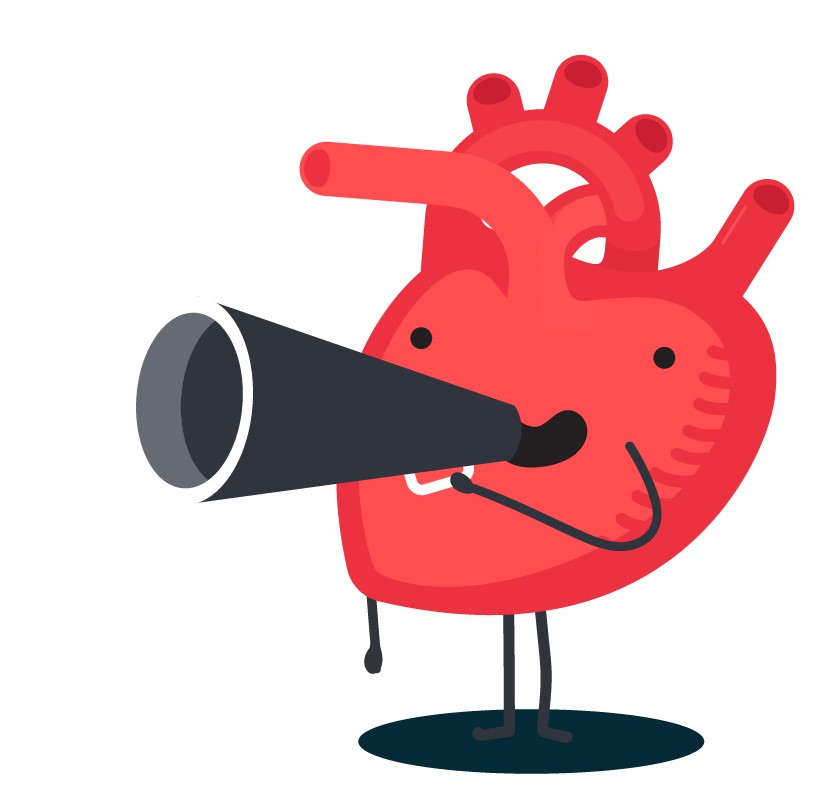 It was valuable for Johnson & Johnson to see the level of interest in this type of product, but the voice element helped calibrate that picture to show how much of it was genuine. These innovation insights will help Sophia and her team make better informed choices about future strategy.
Our team was also surprised at the strength of emotions the AI detected, with very strong negatives about the impact of stress and very strong positives about the product concept. In addition, the emotional analysis uncovered differences in gender reactions. These segmentation insights could prove valuable for future marketing and communications strategies.
For Sophia Jorman, Johnson & Johnson, the research project's benefits were twofold: "Using the voice analysis tool… helped us not only to learn more about stress and test some concept ideas, it also allowed us to evaluate an innovative methodology."
Key takeaways: voice and emotions in market research
Whether it's Machine Learning, chatbots or voice analytics, our team is passionate about exploring how AI can drive better research outcomes for our clients. Across consumer, tech and healthcare industries, we see value in analyzing emotion to add extra depth to consumer insights – especially early on in the product development cycle. However, voice analysis is not a standalone tool. Like other types of AI tools, it delivers more powerful results in combination with other research methods. It can also be scalable when it's part of a hybrid approach.
SKIM offers a complete suite of research solutions across the entire product cycle, including market landscaping, new product development and innovation, forecasting, communications and consumer and healthcare decision journey mapping.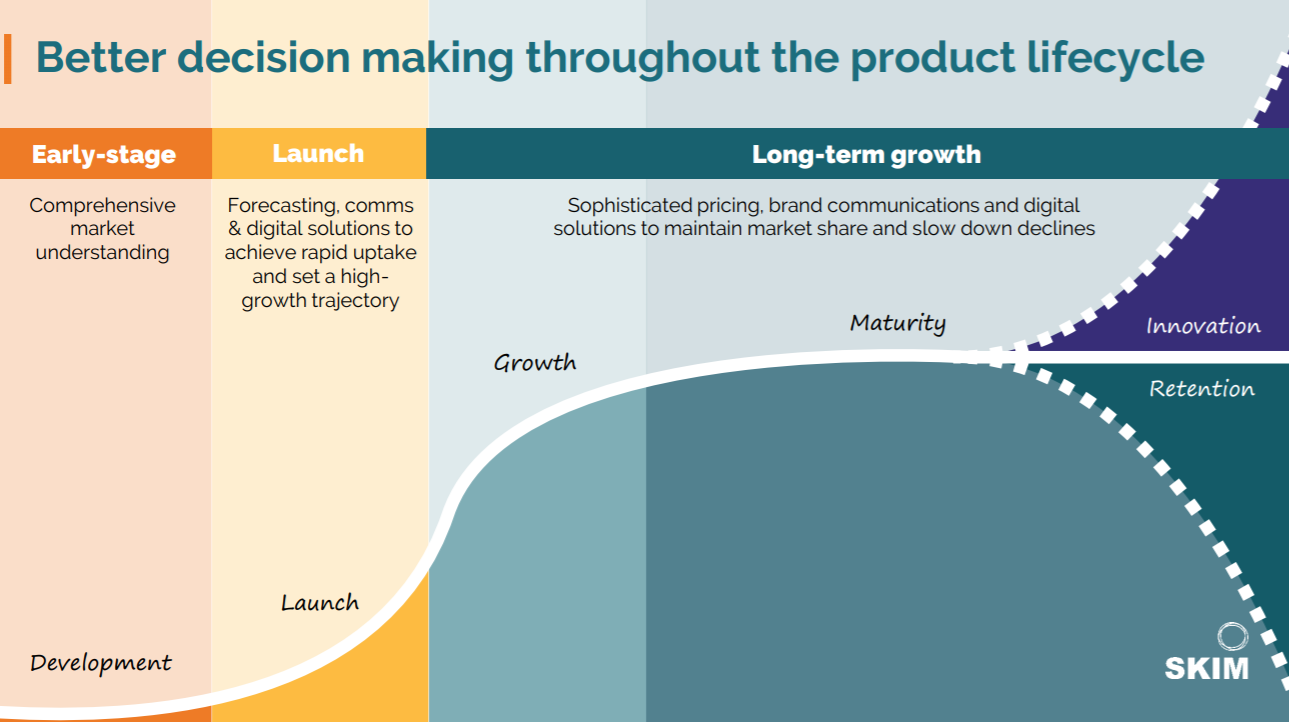 Want to know more about how understanding emotion could help with your product and communications strategies?