Analyze patient needs to maximize your impact on treatment success
Emotions affect our behavior, what we do and how we do it. In the same way, as the patient voice grows more influential, their emotions also affect decisions about their care and satisfaction with treatment. Yet patient research shows, particularly in the case of chronic conditions, that many of their emotional needs remain unmet. Frustration with progress, stress from the burden of taking more medication, or a sense of isolation are common, making them less likely to commit to their treatment or gain the maximum benefit. All of which could be bad news for your brand.
The good news is a new, holistic approach to decision mapping. We recommend a framework that recognizes the importance of patient emotions. One that moves beyond the clinical treatment path to the states they themselves have defined through the lens of their own needs. Here we explain patient's various emotional states and offer practical tips on how to enable healthcare professionals to support patient needs.
This new decision journey mapping framework allows for a fuller, more empathetic picture of the patient journey. It uncovers the gaps in their experience where appropriate support can ensure commitment to treatment and ongoing adherence to the therapy plan.
Exploring levels of patient needs and emotional states
Patients facing the prospect or reality of a new diagnosis have three levels of need:
Informational

:

Am I ill and what disease do I have?

Clinical

:

How can it be treated?

Emotional

:

How will it impact my daily life?
Crucially, these needs are not discrete. For example, if patients lack reliable information at a sensitive point in their treatment journey they may start to feel negative emotions. To ensure they can manage their disease in the best way possible, all three levels of need must be considered.
A common first reaction to diagnosis is denial, when a patient struggles to accept their condition and what it means. They may feel overwhelmed, worried about day-to-day management and in some cases embarrassed to seek help, leading to social isolation.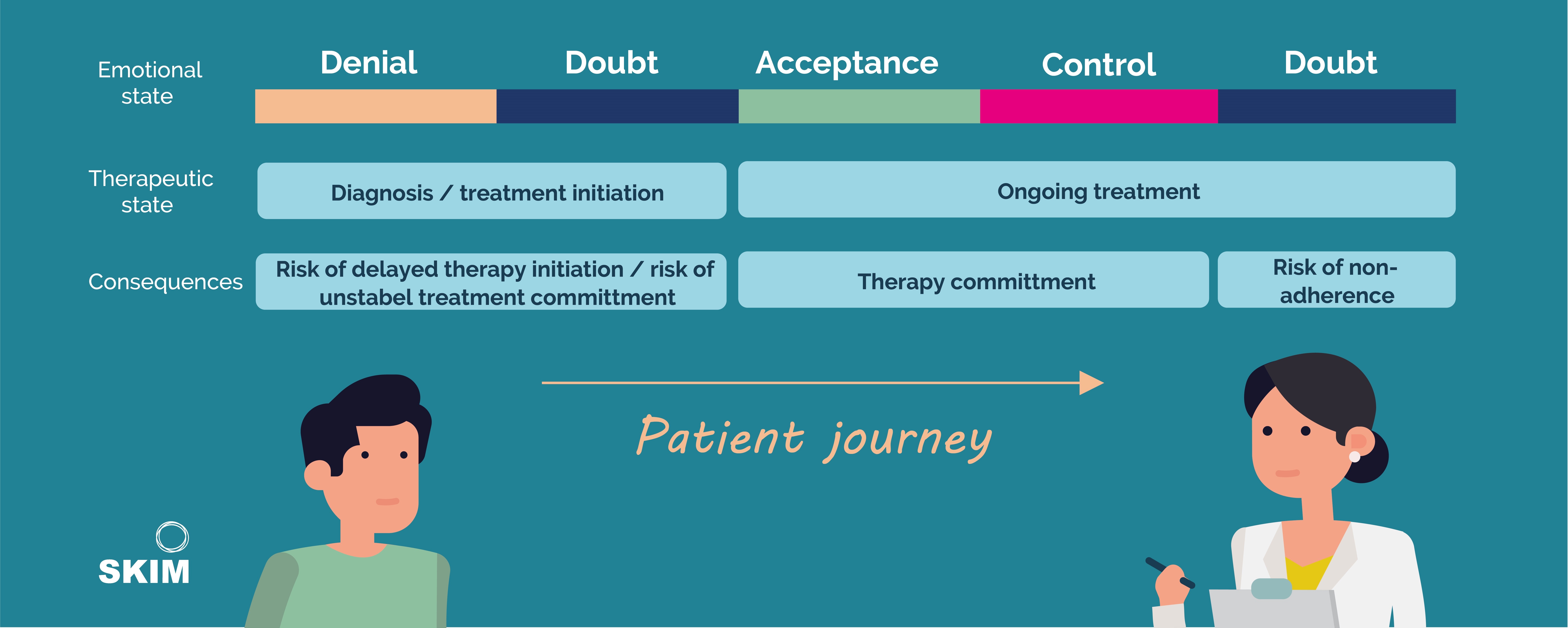 The start of therapy can be accompanied by a period of doubt about the treatment approach and impact of the medication. Ideally, this is followed by a phase of acceptance and being in control while committed to the therapy. Later on, though, patients may grow dissatisfied with treatment. For example, if symptoms persist with the expectation of a cure. This can elicit a desire to take more control, potentially by self-adjusting medication.
Mitigate the risk of therapy failure as early as possible
How can you as a pharma marketer help patients improve their emotional journey to ensure treatment success – especially when direct interaction such as DTC Advertising is not an option? One pitfall we recommend avoiding is to leapfrog immediately to the acceptance and control phase to promote adherence using monitoring tools. A more effective approach is to mitigate the risk of therapy failure at the outset.
Enabling HCPs on this emotional patient treatment journey
We recommend creating a practical toolkit of prompts, aids and apps to help physicians ease the negative emotions that hinder commitment, particularly early on when patients are at their most vulnerable. The most successful approaches include elements that allow physicians and brands to build an early trust relationship and support their ability to:
Listen

rather than respond right away, with genuine interest in what the patient says, the questions they ask, and what they understand about their medical situation.
Acknowledge the patient's emotions. Help them feel safe. Let them know what to expect. Involve them in decision making. Treat them with fairness, compassion, respect and honesty.
Offer access to 24/7 nursing and HCP support for immediate assistance in the event of urgent concerns. Even if not required, the reassurance this provides is invaluable.

Introduce patients to any social networks

in the disease area. Sharing experiences with fellow sufferers is highly valued by patients and can help to address feelings of isolation.
Develop a clear treatment plan outlining therapy goals, treatments involved, their duration, possible side-effects, etc. Setting these expectations helps patients become less anxious and encourages adherence.
Mapping a patient's emotional journey reveals their key moments of greatest need, allowing you to focus your efforts on relevant, timely support that promotes a positive treatment experience. Using this approach, we help leading pharma brands realize new opportunities in a constantly evolving healthcare environment.
Our analytical rigor, combined with a creative approach to patient emotions, allows you to better engage with patients and HCPs to enhance health outcomes, whilst also sustaining market share, gaining competitive advantage and building stronger relationships. Discover how our Physician Decision Journey Mapping can find the most impactful touchpoints for your patients and physicians where your influence can make the difference that counts.